From Imagination to Reality
May 20, 2018
From Imagination to Reality
(From The Imagination of Nicholas Frasco - Show Poster)
This past Saturday my dear friend, Nicholas Frasco, had a heartfelt solo exhibit at the Keeney Memorial Center's Ballroom. This wasn't just a traditional art exhibit, it also incorporated a live performance by the band Plumrose. The band, led by Nick's nephew was garnished by a light show, a red carpet runway, and a silent auction. It was a collection of Nick's many different works surrounded by such a collection of wonderful people. Weaving my way through the packed room saturday night, I met Nick's amazing family, his high school friends, locals of his hometown, co-workers, colleagues, and other supporters of the arts.
Nick (below) and the band PLUMROSE (above)
The room was filled with high praise, awe, and respect for Nick's breathtaking work. But Saturday night was extra momentous because of the tribute to Timothy Gaffney. Gaffney, Nick's high school principal (Platt HS), sadly passed away in 2010. The show was a very special tribute to him, shared with the Gaffney family and alumni students who were at the show, positively inspired by Mr. Gaffney. From just a small sample of what Nick told me about him, Timothy Gaffney was the one who never gave up on a student, one who encouraged Nick to find his passion in art, when others didn't invest any time or attention in him.
(Nick and his son on stage)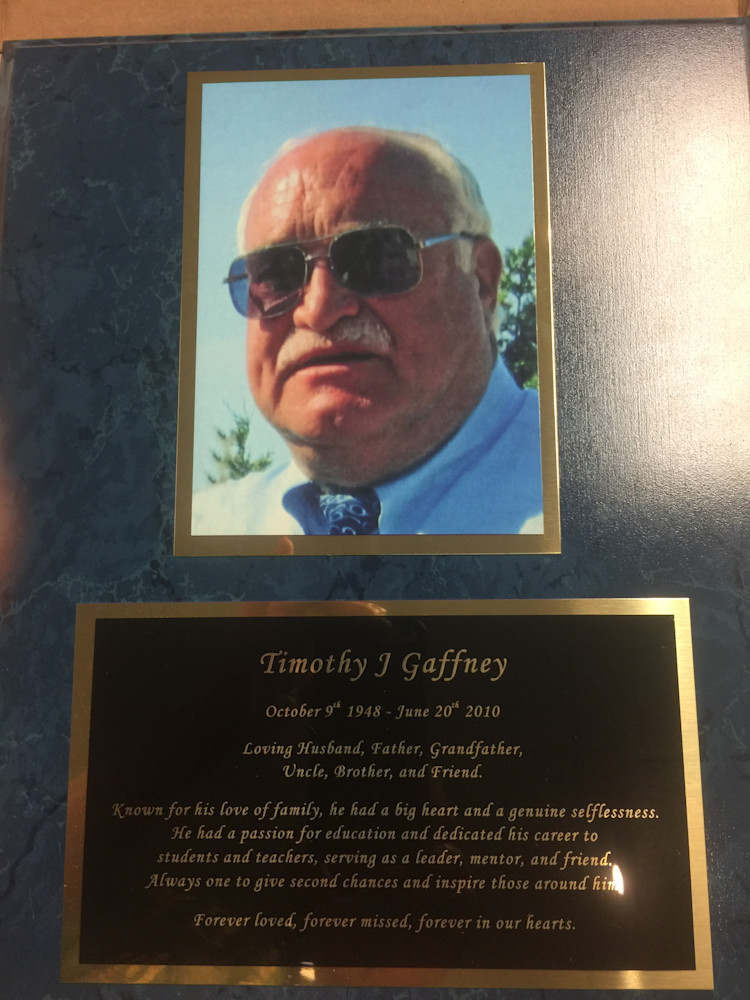 (Plaque of Timothy J Gaffney)
From afar, I realized how special Nick's work was. It wasn't simply the creativity and how imaginative his work was, it was the support people gave him on his big night. To bring so many special people together for a night through his work, was mesmerizing. It was great to see Nick's work in the context of his journey, and to know the dedication to his craft would not be possible, years later, without the guidance and inspiration of one, Timothy Gaffney.
(Nick and myself at the show)
Nick and I have only known each other for a year. Working with him in his classes at Wethersfield's Academy for the Arts, we learned so much from each other. My short time with him there manifested itself into a transformative friendship. This June we have our first mural together at the Mark Twain School for "Hartford Paints the City" project. This will be our first major project together, and an exciting new addition to the Hartford community as well.
From The Imagination of Nicholas Frasco
May 19th, 2018
Keeney Memorial Center
Wethersfield, CT
External Links: